April 2, 2018 12:00 am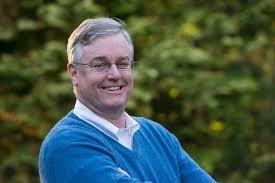 David Trone, an ultra-rich wine retailer, is making another effort to buy a seat in the House of Representatives. Last time it was Maryland's 8th district, the seat won by Jamie Raskin (D-MD). Now it's Maryland's 6th seat vacated by John Delaney (D-MD) another rich businessman who got bored in Congress and moved to Iowa to try to run for President. Maybe the voters of the 6th should be wary of rich businessmen.
The 6th District is based in Montgomery County and includes portions of Frederick County and Western Maryland. Trone doesn't live in the District yet thinks he can buy this seat and maybe he can. His last race cost him $14 million to lose to Raskin who won it by raising about $2 million. It's reported Trone gave more to his own campaign than any other candidate except Trump in that election cycle.
Trone claims spending his own money makes him immune to owing favors. He has never been shy about spending money on other candidates to generate favors for his business and himself. This year ­its reported Trone, members of his family and his wine company have donated $39,000 to the 2018 gubernatorial campaign of Rushern L. Baker III according to filings with the State Board of Elections." They go on to report that shockingly "Trone also announced that he was backing Baker for governor in December. Baker pledged his support to Trone on Monday." They went on to report "Alex Koren, Trone's campaign spokesman, said there was no connection between the timing of Trone's donation and Baker's endorsement." If you believe that I have a bridge in Brooklyn to sell you.
The Frederick News-Post reported in October "Eight months ahead of the primary election for Maryland's 6th Congressional District, one candidate has spent more than his four Democratic challengers combined. Montgomery County wine magnate David Trone has injected $749,939.43 into his largely self-financed campaign, which reported $792,096.12 in overall contributions."  Now the Baltimore Sun reports "Trone raised $1.7 million in the last quarter of 2017, including $144,000 from donors. He spent just under $1 million during that period and has $787,000 in hand — although cash on hand has less meaning when a candidate can draw on personal reserves whenever needed."
The Post reports "Trone has used his fortune to support many Democratic campaigns, including his own. He contributed nearly $411,000 to Hillary Clinton's 2016 presidential campaign and $272,000 to the 2018 Democratic Senatorial and Congressional Campaign committees." In a previous column the Washington Post reported all the money he gave to ultra-conservatives writing "Wine retailer David Trone… has contributed more than $150,000 to Republicans in states across the country since 2000, according to a nonpartisan site that tracks ­money in politics. Most went to candidates and officeholders in states where he sought legislation or regulatory changes favorable to his company, Total Wine & More. Among the Republicans who received funds were Gov. Greg Abbott and Lt. Gov. Dan Patrick of Texas and North Carolina Gov. Pat ­McCrory." The same Pat McCrory who signed anti-LGBT legislation and Greg Abbott who wants to close all Planned Parenthood sites in Texas.
As I wrote during Trone's last race he seems like a nice guy running on a very liberal agenda which is pro- LGBT, pro-women and pro-equal and human rights for all. But then so is every other Democrat in the race. As he did when he tried to buy the seat in the 8th District Trone is running against some people who have lived in and have worked for the people of the District for years. According to the Washington Post "also running in the Democratic primary are  state Sen. Roger Manno, State House Majority Leader Bill Frick, Del. Aruna Miller and retired intelligence officer Andrew Duck — who twice ran for the seat years ago, when it was firmly in Republican hands. "
I continue to believe there is an excess of money in politics and when individuals try to overwhelm their opponents with money from their own bank accounts it harkens back to a time when only landowners could vote. Now its rich business people who think they can buy elections.
In his last campaign he said "I'm self-funding because it's the right thing to do. It's better than taking money from PACs, lobbyists or big donors. It will make me a more effective Congressman."  This year he ruled out PACs but will take individuals' money. Truth is who you take or don't take money from has nothing to do with how effective you will be in Congress. Effectiveness in Congress has to do with how well-crafted the legislation you introduce is; how well you understand the rules; and how well you are able to rally support from the public and negotiate with other members to support and move your legislation forward. It has never been shown self-funded politicians have better records of effectiveness than those who accepted donations.
Business leaders before him have found being the 'boss' in a business doesn't always equate with success in the House of Representatives.  There you begin on the low end of the totem pole competing with 435 other members who want to get things done for their constituents.
---