June 12, 2018 12:00 am
The 2018 Capital PRIDE parade and festival are over. There were over two hundred groups who applied to have contingents in the parade. Considering the Trump administration's assault on the LGBTQ+ community this turnout is heartening. The crowds cheered all the marchers and floats and the festival was bigger than ever. Even the weather gods smiled on the LGBTQ+ community in D.C. holding off the rain.
There were many events over the weekend and one of note was Nordics4equality. Prior to the parade the Ambassadors to the United States from five Nordic countries hosted a crowd at Agora restaurant on 17th street, NW, to celebrate D.C. PRIDE. Participating were the Ambassadors from Norway, Kare R. Aas; Denmark, Lars Lose; Finland, Kirsti Kauppi; Iceland, Geir Haarde; and Sweden, Karen Olofsdotter. The event was organized in conjunction with the LGBT Congressional Staff Caucus, the Library of Congress GLOBE, and the Senate GLASS Caucus.  The Presidents of the three organizations are friends and have committed to making events like this more collaborative for maximum visibility in the community.
The Nordic countries also had one of the more unusual floats in the parade, a Viking Ship carrying representatives from all of them. Storm Horncastle, the Norwegian embassy's public relations officer who was the lead organizer of the event said, "I believe it is more important than ever to show support for LGBTQI community and to continue to build awareness on issues of equality and human rights. I am committed to this cause and I think it's so important to get the message out. Norway, along with the other Nordic countries, have come a long way on these issues, but the struggle is far from over. I am so grateful and proud to work for an ambassador who wants Norway's priorities and views on human rights issues to be known. This gives me the opportunity to create and implement my ideas for how we can support the cause. This year, I designed a Viking ship float to use in the Capital Pride Parade and teamed up with important partners to host a reception for our colleagues and friends who work on human rights issues. These are just a few ways we show Norway's commitment to standing together in the fight against discrimination and hate. Next year our celebration will be even "prouder"!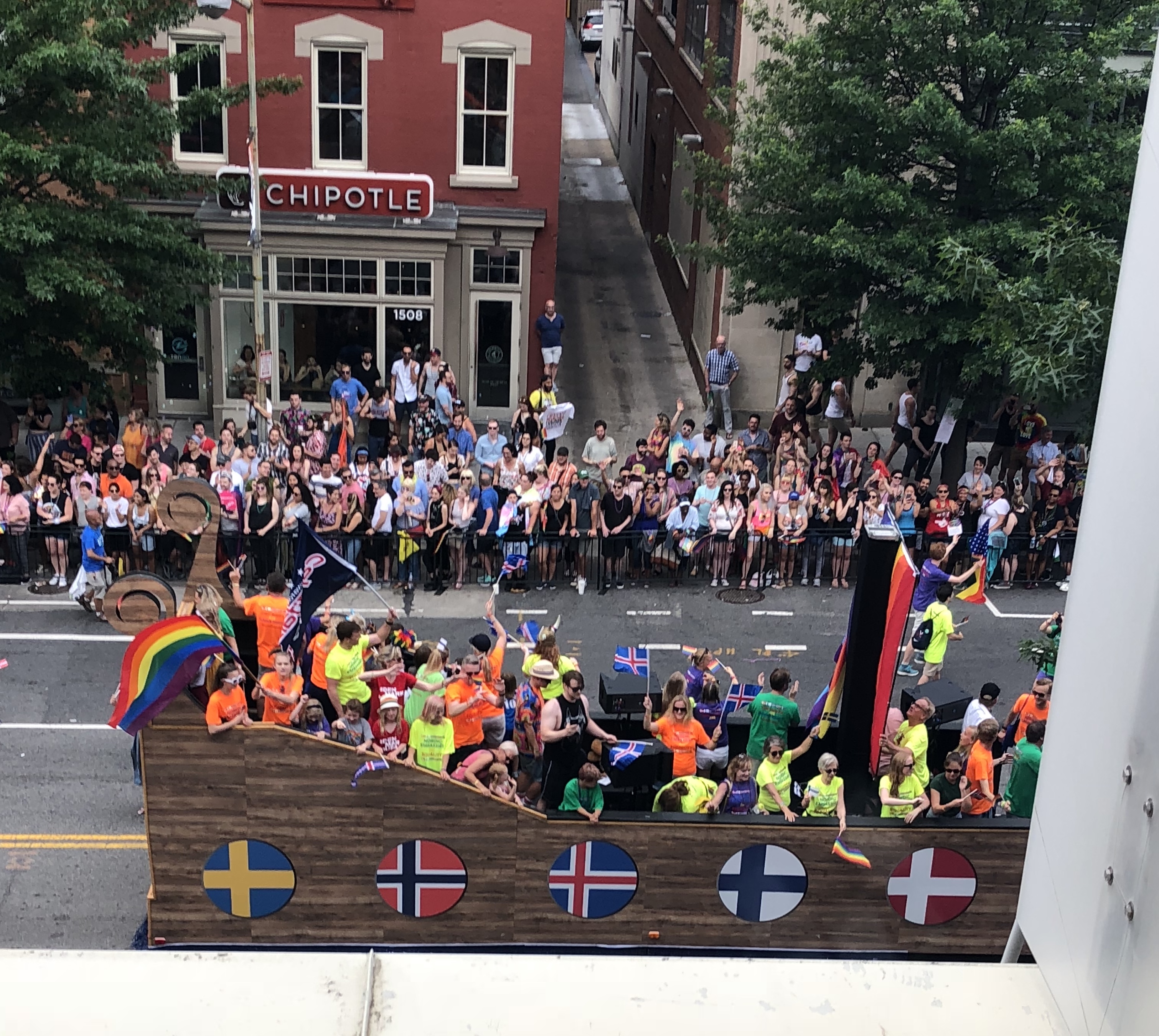 The PRIDE parade in D.C. has become a family affair. Different from my first one in 1980 when I watched from behind a tree in Dupont Circle to ensure I wasn't in any photographs as I wasn't 'out' yet. Seeing so many proud members of the LGBT community saying to the world, as the song in the musical La Cage aux Folles written by a gay man Jerry Herman said, "I am what I am", gave me the courage over the next year to come out. That parade was much smaller followed by a festival with a few booths and a small stage in a dusty field in Dupont. But the impact on a young person just thinking about coming out or coming to grips with their sexuality watching a big parade or attending the festival with hundreds of thousands on Pennsylvania Avenue can be the same life-changing experience it was for me back then.
Tens of thousands come to Dupont Circle to watch the parade, many with their families both gay and straight, to celebrate with a community who has been fighting for acceptance and is still fighting. We know there are members of the LGBTQ+ community who are still being left behind and we must never forget that.
Each year even though the parade and those watching become more diverse we recognize People of Color, Two Spirits, and the Transgender community still haven't gained either equity or full equality. We live in a world where depending on your heritage white privilege is bestowed on you; it's not something you earn through accomplishment or wealth. We must recognize the structural racism that exists in our country which makes life more difficult for many of our brothers and sisters. So seeing Ruby Corado of Casa Ruby being honored and helping to lead the parade is great for the spirit. Seeing grand marshals Judy and Dennis Shepard, the parents of Matthew Shepard, who was murdered twenty years ago makes us realize we must rededicate ourselves to the work of gaining equality and equity because the simple truth is none of us will be fully equal until we all have full equality.
---