June 13, 2018 12:00 am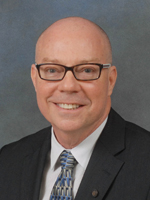 Representative David Richardson calls himself a progressive. I call him a courageous progressive with a record of bringing responsible, forward-thinking solutions to the problems Floridians face at the local and state level. He will do the same in Congress.
David made history in 2012, becoming the first-elected openly gay individual to win a seat in the Florida Legislature. He represents House District 113 including all of the City of North Bay Village, City of Miami Beach, downtown Miami and Little Havana. During his second term he was the House Minority Floor Leader, a remarkable accomplishment for a sophomore legislator, and he was part of the Caucus Leadership Team. He has earned the respect of his colleagues for his groundbreaking work on criminal justice and prison reform and for his advocacy for sensible gun control, quality public education and his unstinting commitment to civil liberties and equal rights for all.
He made reforming Florida's corrupt, for-profit prison system a top priority. His work "revealed evidence of officer-on-inmate violence at youthful offender facilities, caught officers withholding food from inmates, and persuaded the Department of Corrections to close down Lancaster Correctional Institution, a prison incarcerating youth." David will continue fighting for solutions to issues impacting Floridians in Congress. He will stand up to the Trump administration and oppose rollbacks in the Affordable Care Act and support 'Medicare for All'. He believes in a single-payer healthcare system and reinstating the Paris Climate Accords. He will fight any rollbacks of the rights of women, Hispanics, African Americans, the LGBT community and all minority groups, while fighting to expand those rights.
David was born in Houston, Texas, and moved to Florida in 1968, a hometown boy growing up in Longwood where he attended Lyman High School. He earned his bachelor degrees in Biology and Accountancy from the University of Central Florida and his Masters of Business Administration from the University of Tampa. He began his career as an auditor at the US Department of Defense, after which he joined Ernst and Young, an international accounting and consulting firm.  In 1993 he started his own advisory services firm focused on forensic accounting of government contracts.  He has been a licensed Certified Public Accountant in the State of Florida for 33 years.
The Democratic primary is now a two person race between David and Donna Shalala. I know and respect Ms. Shalala having first met her in the early 70's after her appointment to the 'Big Mac' board, the corporation set up by New York Governor Hugh Carey to keep New York City out of bankruptcy.  We met at a friend's Christmas tree trimming party which she attended with City Councilmember Robert Wagner III. Bobby came from a political family. His dad had been Mayor and his grandfather a US Senator. In the early 60's there was a campaign "to rid New York City of gay bars in full effect by order of Mayor Wagner, who was concerned about the image of the city in preparation for the 1964 World's Fair. The city revoked the liquor licenses of the bars, and undercover police officers worked to entrap as many homosexual men as possible." So not surprisingly Bobby brought a woman with him to the party as it was universally assumed he was as deep in the closet as I was at the time. I would meet Donna a number of times over the years even getting to dance a jitterbug with her at an event in DC when she was Secretary of HHS, she is a great dancer.  When being vetted for the position at HHS she denied being a Lesbian and it was then considered irrelevant. However in 2018 being honest and open with your constituents when running for elected office is very relevant and I choose to believe mutual friends who have told me she remains closeted.
Donna is brilliant and accomplished. But one must question why at nearly eighty years of age she feels the people of Florida will be well served having her as a freshman Congressperson when she has never even served in a legislative body. With all due respect to her and others of my generation it is time we use any wisdom and experience we have accumulated to support the next generation of leaders. Especially in Florida's 27th district where the people already have a great candidate ready to represent them.
David has outlined his priorities and they include the economy, education, healthcare, and immigration. He is committed to representing the people in his District including those of Cuban heritage and those who are there from Puerto Rico, many because of the blatant disregard the Trump Administration has shown to our fellow citizens after hurricane Maria. He is committed to repealing the GOP tax plan and raising corporate income taxes. He would increase the minimum wage to $15 by 2020. He will work to pass an infrastructure plan to rebuild Florida's crumbling roads, bridges, railways, airports, public transit systems, ports, dams, wastewater plants, and other infrastructure. He supports the Paycheck Fairness Act guaranteeing equal pay for women. He will fight to invest $5.5 billion in a youth jobs program for disadvantaged young Americans to ensure the next generations of Americans have the support they need to advance in the economy and find good paying jobs. He would lift the income level being taxed for social security to $250,000 to ensure every American can retire with dignity. He supports requiring employers to provide at least 12 weeks of paid family and medical leave, two weeks of paid vacation, and 7 days of paid sick leave. He will fight for a clear pathway to citizenship for immigrants and to protect Dreamers.
David has always supported common sense gun control. He has said he is in awe of the courageous young students of Parkland who stood up and spoke out after the tragedy in their school. He supports mandatory Universal Background Checks, a total ban on assault weapons and high capacity magazines, and wants the minimum age to purchase a gun raised to 21. He will fight the NRA. David supports legalizing marijuana and changing the way we determine sentences for non-violent, low-impact crimes.
David understands in today's world, especially with Trump in the White House, it's important to have another 'out and open' member of the LGBTQ+ community at the table. He can speak effectively on issues such as ending LGBTQ youth homelessness, ensuring fair adoption laws, and fighting for the rights of transgender individuals.
I urge the voters of Florida's 27th Congressional District to vote for the candidate who is true to and honest with himself; and therefore will always be respectful and honest with them. The progressive candidate with legislative experience. That candidate is Representative David Richardson.
---