November 8, 2018 12:00 am
Days two and three on the EPIC were wonderful. Continental breakfast delivered to the room on time and the coffee was great. Day two began with a beautiful sunrise but quickly turned cloudy until later in the day. Cool and windy so the outdoor bars weren't busy but the indoor outlets were hopping.  Day three was nicer and the outdoor buffet was open for lunch. On day three the discussion often turned to what was happening back home, it was midterm election day. It was amazing how many Europeans showed a knowledge and interest in the results.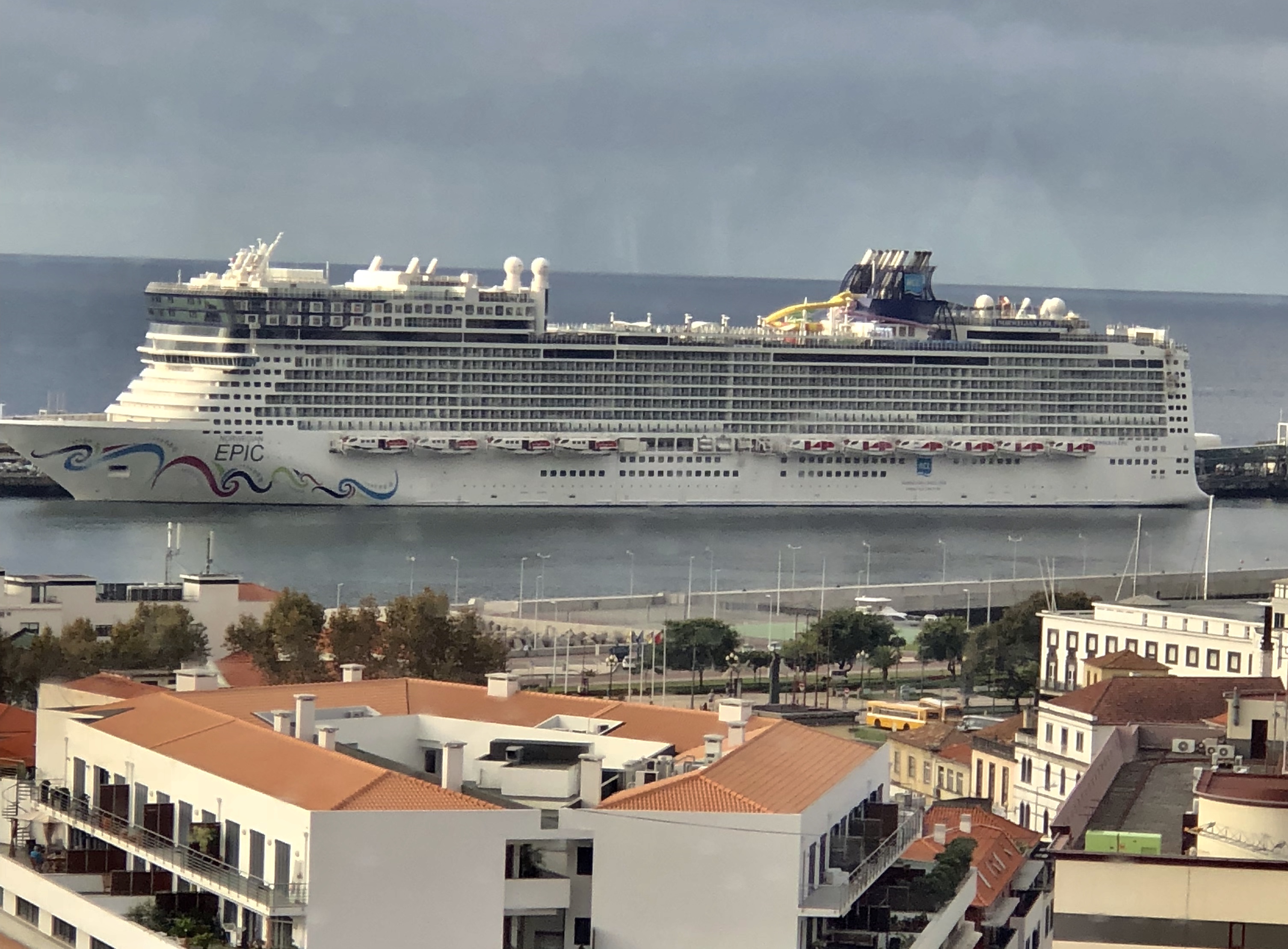 Days were spent doing what I love best, relaxing and writing. Three hours at the computer in the morning beginning the second edit of my book. Then off to the gym where the one upright bike still hadn't been fixed but they promised again.
Day two found the Garden Café, where the buffet is, very crowded but that was handled superbly by the crew as they set up an excellent salad buffet in the beautiful La Cucina restaurant which you entered by stairway from the Café. There is also an entrance on deck fourteen for those in wheelchairs or those who couldn't walk the stairs. Members of the crew told me they will always set up a buffet there if inclement weather prevents sitting outside. Hope that will be a rare occurrence. There were some cast members from Priscilla taking time out to eat there as well and I look forward to seeing the show.
Day two saw the Captain's cocktail reception in the Posh Bar in the Haven at 6:00pm. It is a very nice space in the area of the ship with rooms and suites for high end passengers. Many crew members were there but not the captain. Turned out he was heading the ship toward shore because of a medical emergency on board and two passengers were being transferred off the ship for medical care. Clearly more important than shaking a few hands and we will have many more days to meet the Captain. I learned NCL corporate has a group that follows those taken off the ship. They make contact with them at whatever hospital they are taken too and make sure they have all the help they need including helping them communicate with family if need be and the medical staff if language is a barrier.
Day two and three had the Cavern Bar listed in the daily program as the place for the Friends of Dorothy: LGBT evening cocktail hour. I've shared my thoughts with Norwegian and think it's time to drop Friends of Dorothy as that goes back to the time we had to hide who we were and use code like that to get together. I and another member of the group shared that thought with the cruise director suggesting it is time to list that event as LGBTQ+ and Norwegian should come into the 21st century and do that. He said he would on future daily schedules.
The Cavern Club is a beautiful space but it didn't have a large enough bar for all those who showed up. On day three the cruise director announced he would move the event (weather permitting) each evening to the beautiful outdoor H2O bar with music and plenty of bartenders.
Vacations are about meeting people and there are some great people on this cruise. Matt from the UK invited me to join him and his gram and her sister who he brought with him on the cruise to have dinner at Shanghai and Noodle Bar. It is one of the regular open dining restaurants on the ship and it was great. Tasty spring rolls and dumplings. Matt's gram and her sister were a blast. They had more energy than anyone around and they had just come from seeing an early show in the theater and had some drinks to spur them on.
Day three dinner was at Moderno restaurant at the invitation of Nelson Martins, the Hotel Director. He put together a wonderful group of fourteen to enjoy dinner with him. I got to sit next to Aminta Gomez, Guest Services Manager. She is charming and from what I have seen her staff is amazing handling all the issues people on board have. It is a twenty-four hour a day operation. To those who want to know about dinner in the Moderno think Brazilian Steakhouse like Fogo de Chau, a never ending selection of meats brought to the table on skewers. The only problem being it is too good and you can't stop eating. We did manage to keep most of the conversation away from politics and Nelson mentioned to me he had taken care of the issue with the upright bikes and working ones would be back in the gym. His attention to detail makes him the great hotel director he is.
After a more than a two hour enjoyable dinner I strolled around the ship watching people have a great time. Then stopped in a couple of the bars to chat with friends and finally headed to my stateroom to go to bed fairly early, it must have been around midnight, having set my alarm for 5:00am Portugal time, midnight DC Time. This was to get election results and write my column which had to be filed for the Washington Blade before I headed out to tour Funchal in Madeira, Portugal.
---
Tags: Cavern Bar, Cruising, LGBTQ, Norwegian EPIC, Vacation